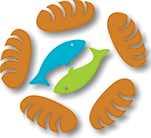 Address:
402 Girod St.
Mandeville, LA 70448
(985) 626-4457
Hours:
10:00AM – 2:30PM, By appointment only.
Food pickup days: Tuesday, Thursday, Friday.
There are several ways in which you can help us help your community.
We love our regular volunteers, but not everyone has a lot of spare time. Well, God has given everyone talents. We're sure you have some to help The Samaritan Center, and we can help you find them.
Donate Food
10:00AM – 2:00PM, Mon to Fri.
Here are food items that we are in need of right now, and a general list of what we keep on the shelves.
If you like, you can designate your donation to be used for a specific cause. Some examples are: Food only, client rent or utility assistance, cancer patients, or building up-keep.
There are other ways you can help through-out the year.
Check our Events and Fundraisers page to see what's coming up.